Announcement
RSVP for our HSBA CNY Luncheon
Singapore ETO hosts business dinner in celebration of 25th anniversary of establishment of HKSAR
***********************************************************************************
The Hong Kong Economic and Trade Office in Singapore (Singapore ETO) hosted a business dinner in Singapore today (October 13) to share information on the latest opportunities in Hong Kong brought about by the development of the Guangdong-Hong Kong-Macao Greater Bay Area (GBA). The hybrid-mode event was well received, attracting about 140 in-person and online participants from a wide spectrum of sectors including urban planning, architecture, real estate services and business consulting.
Addressing the business dinner in a keynote speech delivered via videoconferencing, the Secretary for Development, Ms Bernadette Linn, updated the audience on the latest developments of the two strategic growth areas in Hong Kong, namely the Lantau Tomorrow Vision and the Northern Metropolis, as well as Hong Kong's competitive edge as an international business hub with unparalleled access to the Mainland market.
She first introduced the plan of the Hong Kong Special Administrative Region (HKSAR) Government to reclaim and form at least 1 000 hectares of new land off Lantau. The vast area, called the Kau Yi Chau Artificial Islands, will support the establishment of Hong Kong's third central business district and deliver quality living and economic space in a sustainable, bio-diverse and attractive environment with comprehensive blue-green infrastructure.
She highlighted that the HKSAR Government is determined to develop the Northern Metropolis into a highly liveable and vibrant metropolitan area built on innovation and technology (I&T).
"The Northern Metropolis will be at the heart of accelerating I&T co-operation between Hong Kong and the GBA, particularly with the neighbouring Shenzhen. At the centre of the Northern Metropolis is the San Tin Technopole, which will form an I&T cluster in Hong Kong. Together with a corresponding I&T zone on the Shenzhen side, the resulting 'one zone, two parks' development will provide land for research and development, advanced manufacturing and so on," she said.
Underpinned by the "one country, two systems" principle, Hong Kong's unique role as a bridge between the Mainland and international markets is an edge that will continue to grow in importance as Hong Kong's economic integration with the Mainland continues to deepen, she said.
Extending a warm welcome to talents and businesses, she said the Development Bureau has been making efforts to introduce measures supporting professionals and industries to have greater market access in the Mainland and benefit from the developments in the GBA. According to official statistics, about 100 enterprises and 700 professionals have completed their registration in the nine Mainland GBA cities, enabling them to provide services there. As the ideal gateway to tap the immense business potential in the GBA area, Hong Kong is well prepared to connect people, talents, entrepreneurs, capital and economies by bringing them together to take part in, and benefit from, its various development growth areas, she added.
Ms Linn's speech was followed by a presentation titled "Masters' Talk - Defining Homes in a Land of Opportunities" by Dr Liu Thai Ker, known as the "Father of Urban Planning" in Singapore, who spoke on his decades-long experience on urban development in the city-state as well as shared his perspectives on the development of the GBA.
Co-organised with the Hong Kong Singapore Business Association, the business dinner was the 12th event held by the Singapore ETO this year to celebrate the 25th anniversary of the establishment of the HKSAR under the theme of "A New Era - Stability • Prosperity • Opportunity". For details on the celebration events held, please visit www.hketosin.gov.hk/events/about-25a.php.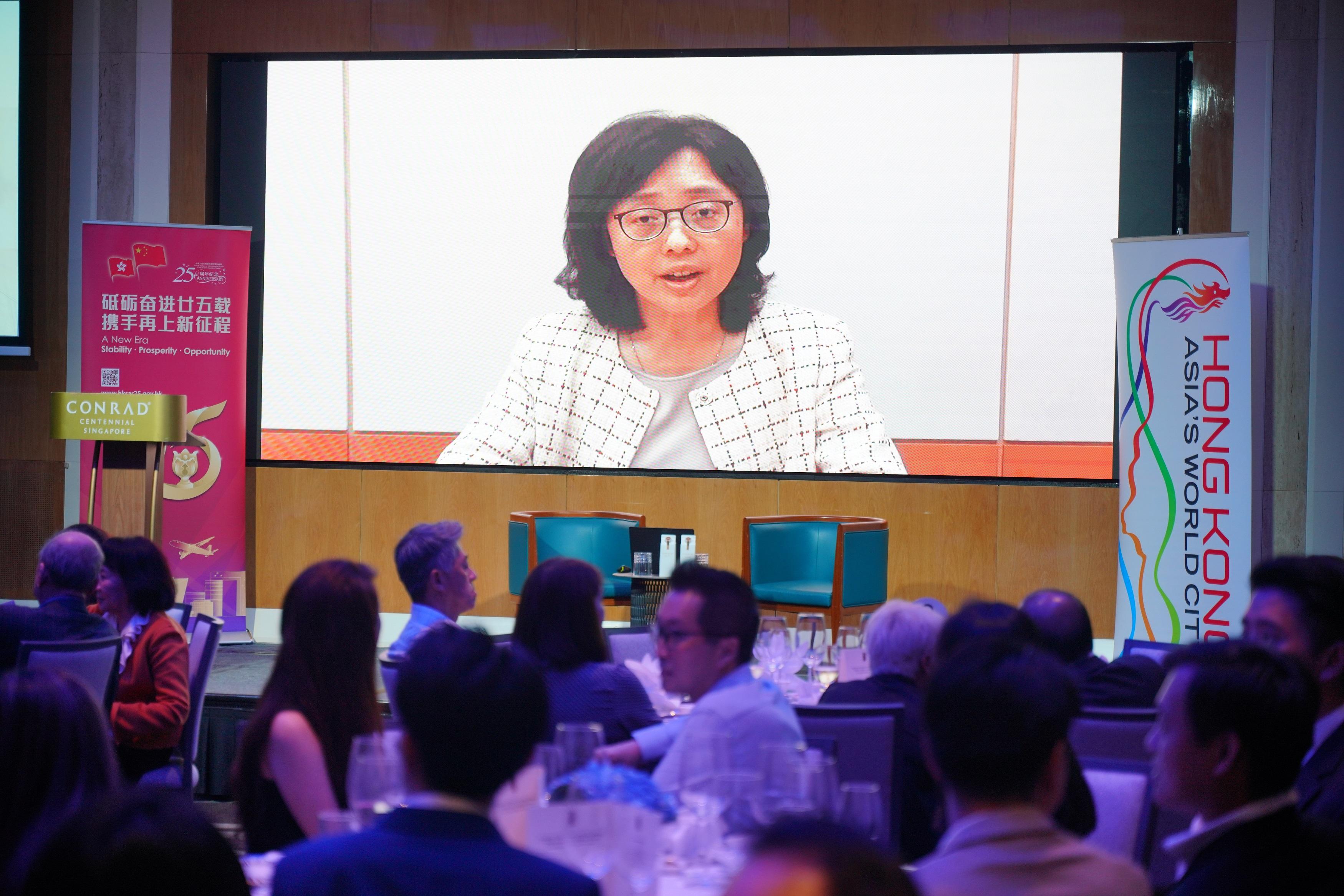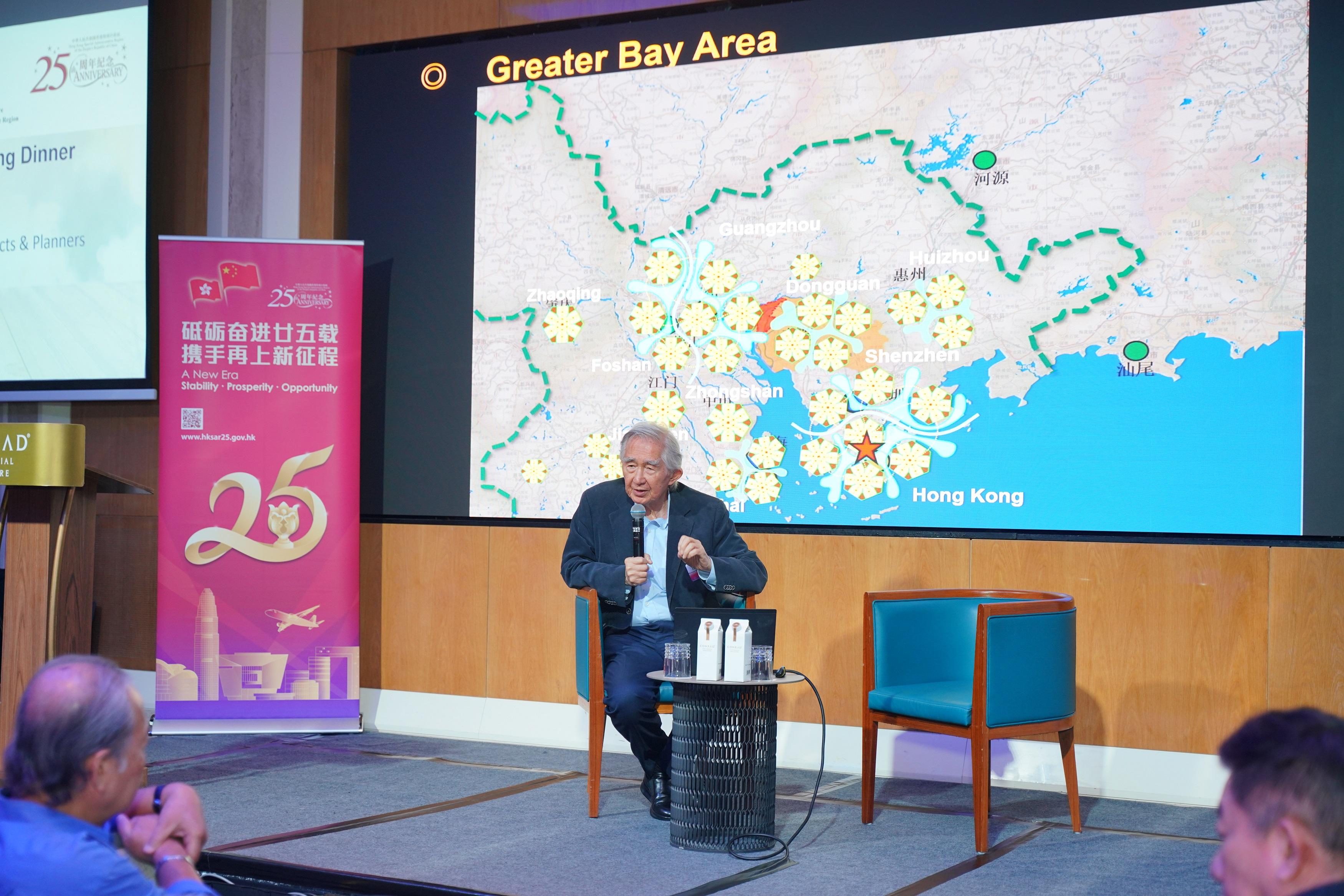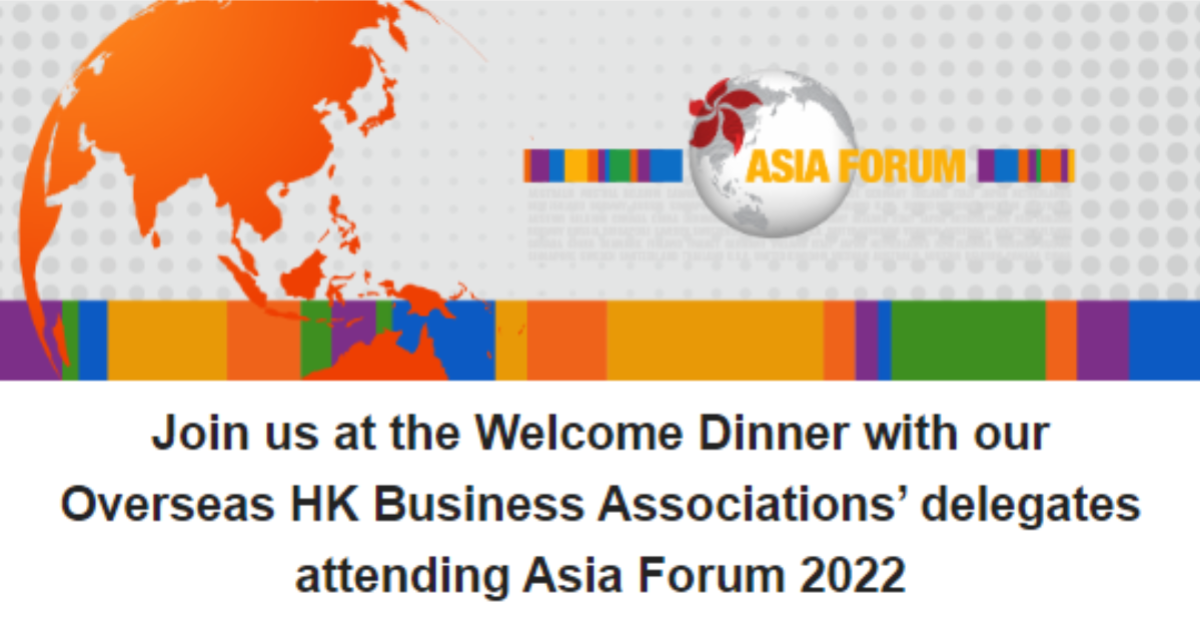 Dear HSBA Valued Members,

A group of 38 delegates from our fellow Hong Kong Business Associations' from Asia & Australasia would be coming to Singapore to attend Asia Forum 2022.
Asia Forum is an annual gathering of Heads and members of HK Business Associations and Chapters in Asia (Cambodia, China, Indonesia, Japan, Korea, Malaysia, Myanmar, the Philippines, Singapore, Taiwan, Thailand and Vietnam) and Australasia (Australia and New Zealand). And you are cordially invited to join the Welcome Dinner, to network and make friends with our HK Federation associates.

NETWORKING is the single most powerful thing to do in order to accelerate and to sustain success for any business. Who you know does not determine your effectiveness... but WHO KNOWS YOU does! People will do business with those they know, like and trust.

​Date: ​Tuesday, 2 August 2022
​Time: ​6 pm
Restaurant: ​Collective
Venue: Dao by Dorsett AMTD Singapore, 6 Shenton Way, #07-01 1 OUE Downtown, 068809 – Level 7
Buffet Dinner Price: $80 nett per HSBA member
Registration is on a first-come first-served basis.
Paynow UEN : S94SS0078K
If you are interested to attend the Welcome Dinner, kindly update the HSBA Secretariat once payment has been made by sending a copy of proof of payment, your name and company name via email This email address is being protected from spambots. You need JavaScript enabled to view it..

For members that have registered with the Federation, kindly make payment and update the secretariat.

--- --- --- --- --- --- --- --- --- --- --- --- --- --- --- --- --- ---

ASIA FORUM 2022
Date: 2nd – 4th August 2022 (Tue - Thu)
Organizers: Federation of Hong Kong Business Associations Worldwide
Supporting: Hong Kong Singapore Business Association

---
HKSAR 25th anniversary: Hong Kong: Through The Looking Glass miniature exhibition (April 4 to 17, 2022 at Suntec City East Atrium Level 1 & Level 3, #03-342 (near playground), 3 Temasek Boulevard , Singapore 038983)
Organised by the Hong Kong Economic and Trade Office in Singapore in partnership with Joyful Miniature Association, Hong Kong: Through the Looking Glass features an exquisite array of miniature replicas of various Hong Kong scenes and attractions, including Tai Hang Fire Dragon Dance, Cheung Chau Bun Festival, State Theatre, Blue House, stilt houses in Tai O and bamboo theatre.
Click here for more information
---
HSBA CNY Business Luncheon & HK SAR 25th Anniversary on 11 Feb 2022
---
---
Event: The 22nd Hong Kong Forum - 30 Nov - 1 Dec 2021
This year, the Forum will highlight the latest development and new growth areas of Hong Kong, opportunities of the Guangdong-Hong Kong-Macao Greater Bay Area and tech entrepreneurship with live online networking after each session.

We are honoured to have the Financial Secretary of the HKSAR Government for a keynote address with other renowned Hong Kong business leaders and entrepreneurs.
---
---
Events
Here's wishing you and your loved ones a happy Mid-Autumn Festival. May you have a wonderful celebration on this joyous occasion!


---
Event: Regional Thematic Webinar cum Asia Forum - 10 June 2021
Topic of the webinar - Hong Kong as an International Innovation Hub: New Opportunities and Partnership for Asian Companies
---
HSBA Chinese New Year Business Talk on World Economic Trends & Developments in 2021 on Friday, February 26 2021
HSBA Christmas Business Talk on Tuesday, December 22 2020
---
HK Forum 2020 - Chairman's Opening Speech Video Clip

 on Day 1

---
HSBA CNY Networking Luncheon Talk on Friday, February 7 2020
---

HSBA - In support of China and Wuhan fight against Coronavirus!
HSBA Business Mission to Manila, Philippines on 7 - 10 March 2019
HSBA 25th Anniversary Gala Dinner 2019
HSBA 25th Anniversary Gala Dinner 2019 - Instant Print
---
HSBA 25th Anniversary (18th October 2019, Friday)
Speech by Mr. Dennis Chiu, Chairman of Federation of Hong Kong Business Associations Worldwide, Chairman of Hong Kong – Singapore Business Association

•          Honorable Mr. Chee Hong Tat – Senior Minister of State for Trade and Industry, and Education Singapore
•          HE Hong Xiao Yong, Ambassador Extraordinary, and Plenipotentiary of the People's Republic of China to Singapore
•          HE Joseph Del Mar Yap – Ambassador of The Republic of Philippines to Singapore
•          Ms. Lynn McDonald – High Commissioner of Canada to Singapore
•          Mr. Law Kin Wai – Director-General, HKETO
•          Mr. Peter Wong – Regional Director, HKTDC (Trade Development Council)
•          Members of Federation of Hong Kong Business Association (HBA) members
•          Members of the Hong Kong – Singapore Business Association (HSBA)

What has HK come to?

Strangers can go for each other's throats – a video shows a middle-aged man who disagreed with protesters, end up becoming the victim when a mob descended on him. Even though he was hurt with blood streaming down his face, a young girl wearing a face mask crept behind and whacked his face with a metal railing.

When volunteer medics came to help, he replied to them, "I don't need help, let me bleed and die". In response, a young man filming him shouted: "why don't you just commit suicide?"

In another instance, a transit passenger (a reporter) in HK airport, wearing a T-shirt "I support HK Police" – was discovered by a mob of protesters who surrounded him and when he realized he was no match, he then shouted, I support HK Police, you can hit me now.

How did we become so polarised?
- Where are the answers?
- What are the ways?
- What does it take?

Professor Wang Gung Wu – when interviewed recently on CNBC mentioned the lack of political experience and leadership skills as the top reason. So far, HK Chief Executives are business-driven and Civil Servants. The problem in HK is both Political and Ideological.

Let me start with a quote:

The farther backward you can look, the farther forward you can see. 
- By Winston Churchill

1. One Country Two System

There is a fundamental fault in this approach, but history tells us that HK under the British Colonial Rule had always been 2 systems for 155 years. Even pre-colonial HK was the entrepot trading hub. Through trade, the business was done differently to better align with the Western structure. The World used HK as a stepping stone to Chin and China used HK as a stepping stone to the World. The 2 systems co-existed! Subject to certain refinements the 2 systems seem compatible.

So what about the One Country? The loss of Hong Kong was a historical embarrassment to China. A 5,000 yrs civilization, was not about to give up its sovereignty on HK and Hong Kong has always been part of Chinese soil.

It is inconceivable for this to be treated otherwise, as any other option is wishful thinking and the unreal demand when you see the American or British flag. I am so saddened by the lack of feelings and knowledge. 

[For those who read The Fall of Beijing, The City Invaded by 8 Foreign Powers, the Japanese Occupation of China especially the Nanjing Massacre. All must be proud of HK's to return to China in 1997].

2. The Education system here has a "black-hole" or vacuum, a serious weakness in educating the young, the way subjects are taught, how the syllabus is set-up and the lack of integration with China. Subjects are still taught in Cantonese, while people around the World are going to Beijing to learn Mandarin.

In particular, there is the subject of Liberal Studies that became compulsory during the 2009 entrance exam to Universities known as the Hong Kong Diploma of Secondary Education.

The Education Bureau cited certain textbooks "to have misled students and spread hatred and bias". Beijing was troubled by a statement from Education Chief Minister, Chen Bao Sheng in 2017, who said the rise of pro-independence sentiment in HK was "linked directly" to its education system.

3. The severe housing shortage in HK

60% of HK's land is zoned green belt. The area is built up at 33%, with only 17% for residential housing [which is less than 10% allocated for residential use]. Total land allocation for private housing is roughly 45%; public housing at about 55%. In terms of affordability, it takes approximately 17 years for young families to save up to purchase a house, whereas comparing many others between 5 to 7 years of working.

Besides, there is another old law to protect the male-descendant of the Villages in New Territories and ensures the male offspring to have a house "丁屋" Rights which has a direct impact on the use of all lands and supply in overall HK land supplies. The Agricultural land use which is primarily located in New Territories must be re-examined as there are so little "farms" in HK already.

Inequality

HK has always taken pride in having the "freest" economy in the World. The best way to describe HK economic model as cited by [late Nobel Laureate Milton Friedman] in this book "Free to choose". It is a Laissez-faire economy with a small Government, leaving the perfect "supply & demand curves" driven by market forces. Hence, there is little or no interference.

Compared to Singapore, with a much more planned and vision L-T driven eco model with an open economy. Both have achieved amazing successes.
[HK$1.83T Reserves approx. US$235 billion];
[SING$392B Reserves approx. US$285 billion].

But perhaps, one side effect is in the rise of inequality. The Gini coefficient has reached its highest in 45 years and the trend is up. In 2018, Hong Kong with a 0.539 Gini Index compared with Singapore at 0.4579.

The average monthly income of the top 10%, is 43.9 times the bottom 10%.

The average monthly income in Hong Kong is close to HK$17,500 which is approx. S$3,125; household income in June 2018 is HK$28,000 and taking an exchange rate of 5.6, comes to approx. $5,000.
[Medium Gross Income in Singapore 2018 (S) $4,437 per month. Household income (S)$9,293].

If the side effect is inequality, then the outcome is disturbing, with the New World Globalization in retreat, nationalism, and more.

Whatever it is, whether is Socialism with Chinese characteristics, or Singapore version of Vision L-T system, HK needs to dig deeper to re-examine and find a better way forward.

Recently, there is a new term calling for Inclusive Capitalism.

DEMONSTRATOR MINDSET

While trying to understand what is behind the mounting street violence, thoughts cast back to months of student riots across Europe in the early '70s.

Look at a recent study led by psychiatrist Leor Zmigrod at Cambridge University exploring the mind-sets of people of the extreme political spectrum. The heart of political polarisation around Donald Trump and the Brexit debate in Britain, which resulted in conflict between the 2 leading political parties.

In the paper "Journal of Experimental Psychology", similar to football fans (men alone thesis), religious cults and even Triads, any environment that can create people with a cognitively rigid mind is especially attracted to the clarity and certainty response by certain ideologies as in tribal bonding. The power of social media magnifies and reinforces the mentally rigid-tribalism – especially the adrenaline-pumping war game apps that have been lifted from their laptops at home onto HK's streets.

The second force is what is called the fracture lines. All societies have their differences. But only when the fracture lines created by these differences overlap do divisions in society become entrenched enough to trigger violence or serious stability.

CONCLUSION

To overcome the challenges of HK today, I would summarize in 3 phases: 

1) Short-Term - at all costs, must return to peace and stability
2) Medium-Term - Housing & Education
3) Long-Term - Integration with China
Chairman's Speech
---
Executive Committee
| | | |
| --- | --- | --- |
| Chairman | Mr Dennis Chiu | Far East Consortium International Ltd |
| President | Mr Philip Chan | Wen Way Investments Pte Ltd |
| Vice President | Ms Mei Reading | Griffin Group International Pte Ltd |
| Vice President | Ms Maple Ye | Jiang Education Centre Pte Ltd |
| Honorary Secretary | Mr Terry Lee | Amer International Group Pte Ltd |
| Honorary Treasurer | Mr Wilson Chu | Bank J. Safra Sarasin Ltd |
| Committee Member | Mr Adrin Loi | Ya Kun International Pte Ltd |
| Committee Member | Mr Andrew Chan | ARC Community |
| Committee Member | Ms Candy Yan | Golf Elite Pte Ltd |
| Committee Member | Ms Daisy Ha | Aimpact Capital Pte Ltd |
| Committee Member | Ms Florence Tan | Corporate Finedge Pte Ltd |
| Committee Member | Mr Huang Yanting | Drew & Napier LLC |
| Committee Member | Dr John Wong | Yes Strategiz Pte Ltd |
| Committee Member | Ms Ulrica Au | Gioiello |
|   |   |   |
| Past President | Mr Dennis Chiu | Far East Consortium International Ltd |
| Past President | Mr Gary Cheng | The Bank of East Asia, Limited. Singapore Branch |
| Past President | Mr Richard Eu | Eu Yan Sang International Limited |
| Past President | Mr Ron Sim | Osim International Limited |
| Past President | Dr Henry Tay | The Hour Glass Limited |
---